On November 4, 1979, the U.S. Embassy in Tehran, Iran, was stormed by Iranians opposed to America's support for Iran's leader, Shah Mohammed Reza Pahlavi.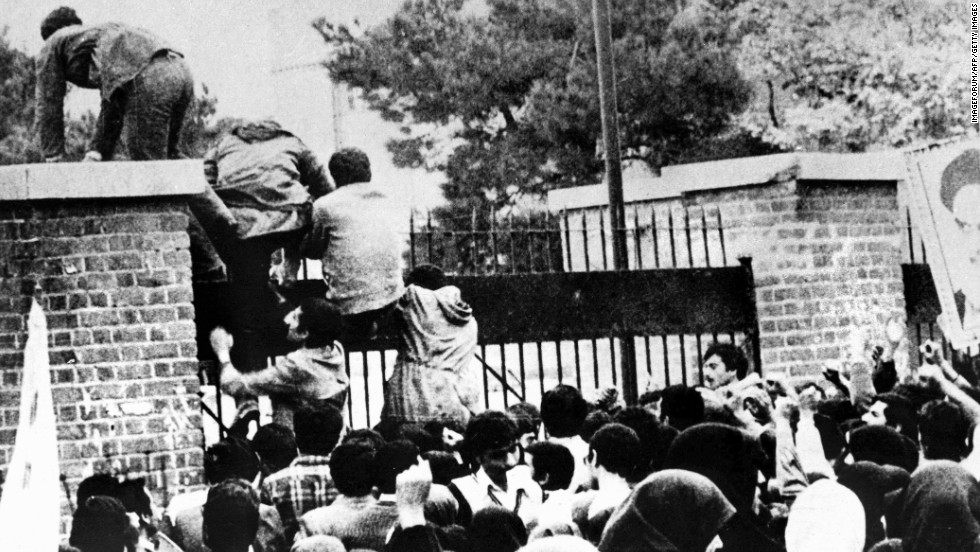 Iranian students scaling a security fence outside the U.S. Embassy in Tehran, Iran.
American diplomats and members of the U.S. military were captured and taken hostage. Many of them were held in captivity until their release on January 20, 1981, 444 days later.
American hostage shown outside the U.S. Embassy in Tehran, Iran.
(The movie "
Argo
" told a related but different story, about the six Americans who fled from the embassy on Nov. 4, took refuge in the home of the Canadian ambassador, and were later
"exfiltrated" by the CIA
.)
We will certainly discuss the Iranian Hostage Crisis when we're discussing Jimmy Carter's presidency later this spring. A good way to introduce that topic is to share with them this story (
Americans Held Hostage in Iran Win Compensation 36 Years Later
) in yesterday's
New York Times
.
Included in a recent budget agreement, Congress decided to give $4.4-million to the surviving Iranian hostages or their survivors. Apparently, the same agreement that the United States had reached with Iran winning the hostages' release also barred them from seeking any payments for their capture, torture, or captivity. The budget deal now created an avenue to remedy that injustice.
Read the Times story with your students, then ask them to make a timeline of the Iranian Hostage Crisis based on information from that story. Then share with them these online resources to add additional information to their timelines.
Alternatively, the UMBC Center for History Education has a terrific
lesson plan
on the crisis based on primary sources.